UPROAR hit Cincinnati Sunday and it ROCKED. This tour stop brought headliners Skillet, Pop Evil & Godsmack as well as Buckcherry, Escape The Fate, Sons Of Revelry, Fun Gone Wrong, 3 Years Hollow & The Ernie Ball Battle Winner. BitoJava's Jessica and Russ were at The Riverbend Music Center in Cincinnati for the show.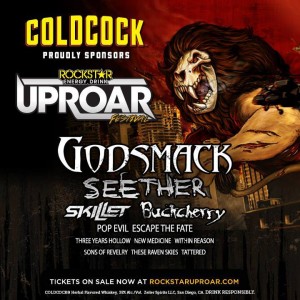 Sunday's Lineup:
ROCKSTAR ENERGY DRINK MAIN STAGE
Godsmack – 9:25 PM
Skillet – 8:15 PM
Pop Evil – 7:25 PM
BLACKSTREAM RECORDS FESTIVAL STAGE
Buckcherry – 5:50 PM
Escape The Fate – 5:00 PM
3 Years Hollow – 4:25 PM
Fun Gone Wrong– 3:50 PM
Sons of Revelry – 3:15 PM
Battle Band Winner – 2:45 PM
BANDS WE SAW:
Sons Of Revelry
3 Years Hollow
Escape The Fate
Buckcherry
Pop Evil
Skillet 
The first set I shot at UPROAR on Sunday was Canadian band, SONS OF REVELRY were psyched to play the festival.  They won the Ernie Ball Battle of The Bands for UPROAR last year & took the stage at 3:15 and put on an awesome set. Be sure to check them out!
Next up for us was 3 Years Hollow. Lead singer, Jose gave several shout outs to Sirius XM Octane throughout the set, asking fans in the crowd to request their songs. The band has 2 EPs and an album under their belt and are on the UPROAR tour through August 26th.
Until a week before the festival, I had heard of, but never listened to Escape The Fate. Their publicist sent me their newest record, Ungrateful to listen to and review (coming soon) and I fell in love with their sound. Their set was crazy. Midway through, lead singer, Craig Mabbitt told the crowd to start a circle pit around the rockstar energy tent and jumped into the pit with them. They played "Ungrateful", "One For The Money" and other hits. If you're headed out to UPROAR, check out their set!
The last show on the festival stage and the one we at BitOJava were most excited to see was Buckcherry and they killed it! The band played a 50 minute set full of some of their biggest hits ("Sorry", "Lit Up", "Crazy Bitch" "Everything"), as well as songs off of their new EP , Fuck ("Say Fuck It" ( an Icona Pop Cover), "Somebody Fucked With Me" & "I Don't Give A Fuck"). The set started off with Lit Up, Rescue Me and All Night Long. Horns were up, guitars were loud & yes, like any outdoor rock fest, everyone was crowd surfing (even through the ballad). Throughout the set, lead singer Josh Todd warned everyone to be careful because he didn't want anyone hurt.  The crowd went crazy as Buckcherry's set ended with the band's biggest hit, "Crazy Bitch".
First up on the main stage was Pop Evil. This is the second time I've seen Pop Evil live and they always put on an impressive show. Sunday night's set included six songs, including their hits "Torn To Peices", "Deal With The Devil" & "Trenches". They put on an amazing set and kept the crowd on their feet the whole time.
Lastly, Skillet took the stage at UPROAR. They took the stage at 8:15 & they brought the girl power with drummer, Jen Ledger and rhythm guitarist, Korey Cooper. These ladies rocked and Korey is one of the most talented rhythm guitarists I've seen live. The girls, lead singer John Cooper (Korey's husband) & lead guitarist, Seth Morrison kept the crowd entertained during their 8 song set, which included "Sick Of It", "Rebirthing" and "Monster".
UPROAR 2014 was one of the best shows I've seen all summer. If you are thinking about heading out to a stop on the tour (which runs through September 21st), grab your tickets now. You don't want to miss this year's lineup!
TOUR DATES:
 SAT, AUG 23, 2014 MT. POCONO, PA Mt. Airy Casino Resort
SUN, AUG 24, 2014 NOBLESVILLE, IN (INDIANAPOLIS) Klipsch Music Center
TUE, AUG 26, 2014 CAMDEN, NJ (PHILADELPHIA) Susquehanna Bank Center
WED, AUG 27, 2014 GILFORD, NH Meadowbrook Pavilion
FRI, AUG 29, 2014 SIMPSONVILLE, SC Charter Amphitheater
SAT, AUG 30, 2014 TAMPA, FL Midflorida Credit Amphitheatre
SUN, AUG 31, 2014 GULFPORT, MS CPR Fest
TUE, SEP 2, 2014 GRAND PRAIRIE, TX (DALLAS) Verizon Theatre
SEP 3, 2014 CORPUS CHRISTI, TX Concrete Street Amphitheater
FRI, SEP 5, 2014 BONNER SPRINGS, KS (KANSAS CITY) Cricket Wireless Amphitheater
SAT, SEP 6, 2014 SIOUX CITY, IA Tyson Event Center
SUN, SEP 7, 2014 OKLAHOMA CITY, OK Zoo Amphitheatre
TUE, SEP 9, 2014 BROOMFIELD, CO (DENVER) 1STBANK Center
THU, SEP 11, 2014 POST FALLS, ID (SPOKANE) Greyhound Park
FRI, SEP 12, 2014 AUBURN, WA White River Amphitheatre
TUE, SEP 16, 2014 IRVINE, CA Verizon Wireless Amphitheatre
WED, SEP 17, 2014 LAS VEGAS, NV The Joint
THU, SEP 18, 2014 PHOENIX, AZ Comerica Theatre
SAT, SEP 20, 2014 ALBUQUERQUE, NM Isleta Amphitheatre
SUN, SEP 21, 2014 TUCSON, AZ Kino Memorial Stadium
You can check out some of the shots that we got at THE ROCKSTAR ENERGY DRINK UPROAR FESTIVAL in Cincinnati last weekend in the gallery below:
Check back for more UPROAR FESTIVAL 2014 coverage, coming soon!
UPROAR WEBSITE: http://www.rockstaruproar.com/
UPROAR FACEBOOK: https://www.facebook.com/RockstarUPROAR
UPROAR TWITTER: https://twitter.com/RockstarUPROAR